Vienna Art Book Fair 2019
Vienna Art Book Fair #1
04—06 October 2019
Applied Arts Vienna
Vordere Zollamtsstraße 7
1030 Vienna
Location/Map
Free Entry

Hours
Friday, 04 October 2019, 5 pm - 9 pm
Saturday, 05 October 2019, 1 pm - 8 pm
Sunday, 06 October 2019, 1 pm - 7 pm

Special Guests USA

C07-08 | Half Letter Press / Temporary Services, Chicago, IL 
B01-02 | HOMOCATS, New York, NY
D01-02 | Paul Shortt, Gainesville, FL
C05-06 | Primary Information, New York, NY
C01-04 | Printed Matter, Inc., New York, NY 

C13 | &: christophe daviet-thery, Paris, FR
D28 | 16b editions, Strasbourg, BE 
C17 | About Books, Zurich, CH  
E27 | Akira Nishitake, Matsuyama, JP
F08 | Album Verlag, Vienna, AT
E15 | Anne Deuter, Leipzig, DE 
E14 | Annette Vogel, Munich, DE  
SR 27 | Antiquariat Fritsch (Heimo Zobernig), Vienna, AT
G01-02 | AnzenbergerGallery bookshop, Vienna, AT
D19-22 | Are We There Yet Magazine, Vienna, AT
D14 | Arengario Studio Bibliografico, Gussago, IT     
D19-22 | Auslöser, Vienna, AT   
C14 | AVARIE, Paris, FR   
D24 | AVE magazine, Vienna, AT
G17 | AYUN, London, UK 
B12 | backbonebooks, Berlin, DE   
F17 | Bauer Verlag, Frankfurt, DE 
B10 | Beam Editions, Nottingham, UK 
F24 | BE Glocker, Vienna, AT   
G16 | Benedikt Steiner, Vienna, AT   
G16 | Bflmpsvz Publishing, Prague, CZ
E12 | Bianca Tschaikner, Bregenz, AT   
D19-22 | Blåblå, Oslo, NO   
H02 | Black Pages, Vienna, AT   
D19-22 | blank, Vienna, AT   
F10 | BLEK, Berlin, DE   
G07 | BLOW UP PRESS, Warszawa, PL  
D15 | Boabooks, Genève, CH 
E17 | Boundless Bookbindery - Larissa Cox, Vienna, AT    
H05 | Buchhandlung Walther König, Köln, DE 
E11 | burgBUCHeditionen
Burg Giebichenstein Kunsthochschule, Halle/Saale, DE
D19-22 | C/O VIENNA MAGAZINE, Vienna, AT
G04 | Camera Austria, Graz, AT   
E16 | Carivari – Sabine Golde, Leipzig, DE
E02 | Carol Barbour, Toronto, CA 
G12 | Ceremony Press, Manchester, UK
E07 | Damocle Edizioni, Venezia, IT 
G06 | Danilo Montanari Editore, Ravenna, IT 
H12 | Darja Shatalova, Vienna, AT     
H10 | Dieter Halama Wiental, Pressbaum, AT  
H11 | Drawing Books, Vienna, AT   
C15 | edcat, Munich/Zurich, DE/CH
F25-27 | Edition Angewandte, Vienna, AT
D15 | edition fink, Zurich, CH  
D27 | Edition Furor, Vienna, AT
C16 | Edition Taube, Munich/Zurich, DE/CH
E22 | Edizione Multicolore, Leipzig, DE
E26 | EECLECTIC, Berlin, DE 
E18 | Elfriede M. Klepoch, Vienna, AT
A06 | Europapier, Vienna, AT   
C18 | Everyedition, Zurich, CH   
D19-22 | EYESORE, London, UK
F14 | Faculty of Art and Design, UJEP, Ústí nad Labem, CZ
D15 | Fair Enough
E19 | fedhe - ferdinand ruef, Wolfurt, AT   
D17 | Forum Stadtpark, Graz, AT   
D19-22 | FRANZ THE LONELY AUSTRIONAUT, Vienna, AT   
G19 | Gabriele Amor, Nice, FR   
C04 | GAGARIN, Antwerp, BE   
H03-04 | Galerie DRUCK & BUCH, Vienna, AT  
D03 | Gloria Glitzer, Berlin, DE   
E04 | Guy Bigland, Bath, UK
F23 | Hand-Bücher, Vienna, AT   
H01-02 | Harpune Verlag, Vienna, AT
E22 | Happy Potato Press, Berlin, DE 
G11 | Heidemarie von Wedel UND EINS, Stuttgart, DE
G10 | Highchair Editions, London, UK   
E05 | Holzwarth Publications, Berlin, DE   
D19-22 | House of Common Affairs, Ilford, UK
D10 | icon Verlag Hubert Kretschmer, Munich, DE  
F23 | Johanna Finckh, Vienna, AT  
A02, C12, D18, F02, F11, H13 | Johannes Porsch / Documents, Vienna, AT 
D15 | Jungle Books, St. Gallen, CH   
G19 | King Franziska / Anskar Fiz, Vienna, AT 
B09 | Kristian Ujhelij, Vienna, AT
D06 | Lady Liberty Press, Vienna, AT
E06 | Little Steidl, Göttingen, DE   
E26 | LIVNE EDITIONS, Berlin, DE
E03 | Long Distance Press, Edinburgh, UK   
D16 | Lubok Verlag, Leipzig, DE   
D06 | Lucky Punch Press, Berlin, DE
G03 | MACK, London, UK
F12 | malenki.net, Bielefeld, DE   
B03-04 | Mark Pezinger Verlag, Vienna, AT   
G15 | Marco van Duyvendijk, Rotterdam, NL
G13 | Markus Oberndorfer, Vienna, AT   
F04 | Martin Frey & Philipp Graf, Vienna, AT 
F05 | Mavrič & Schlögl, Vienna, AT
A03 | Medienfabrik, Graz/Vienna, AT   
F13 | Meta/Books, Amsterdam, NL   
C09 | Michalis Pichler, Berlin, DE   
E23 | million books, Munich, DE  
D19-22 | mischen, Graz, AT 
D05 | MonoRhetorik, The Hague, NL   
E23 | Monroe Books, Berlin, DE   
E29 | Multiple Spirits + Yoshinori Niwa, Vienna, AT
F15-16 | New Design University (NDU), St. Pölten, AT
Akademischer Lehrgang Buchgestaltung BA Studium Grafik- & Informationsdesign
E25 | Niels Poiz, Brussels, BE  
C18 | Nieves Books, Zurich, CH
E28 | Nippashisan, Berlin, DE    
D23 | NXS World, Amsterdam, NL   
F06 | ORTHOCHROME, Vienna, AT
G12 | Pantingo, Ghent, BE
E09 | Papierwerkstatt Janet Sifft, Berlin, DE
VABF   About   Exhibitors  Program   Shop   Contact   Press   Partners
Program

For three days, the Vienna Art Book Fair #1 will offer an accompanying program that includes exhibitions, performances, book presentations, artists' talks, readings, panels, guided tours through the fair and workshop visits.
︎List of Signings and Launches
︎VABF curation

Locations
︎ SR 25 (Seminarraum / conference room 25), Ground Floor
︎ SR 26 (Seminarraum / conference room 26), Ground Floor 
︎ Auditorium, Ground Floor
︎ Werkstatt Buch & Papier, Level 1
︎ Offsite location

 
Friday, October 04, 2019
 
︎5:00 pm

The Vienna Art Book Fair #1 opens its doors for the first time. 
Don't miss your chance to snag the Fundraising Edition: 
"I want to become a millionaire" – Vienna Art Book Fair #1
by Thomas Geiger, 2019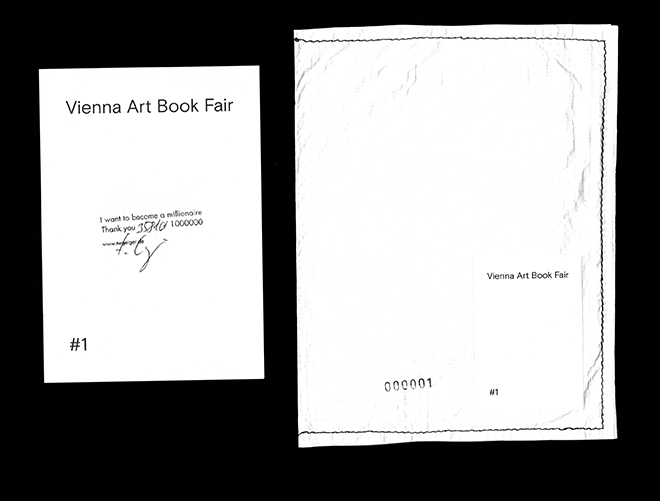 Paper sheets, 10.5 x 14.8 cm, numbered and signed, Edition of 263 sewn in Tyvek© by Anna and Marlene Obermayer
 
---
Friday, October 04, 2019
︎ 6:00 pm, Auditorium

HOW TO ART BOOK FAIR
Opening Performance by Paul Shortt, USA 


---
Friday, October 04, 2019
︎ 7:00 pm, SR 26, Ground Floor

QUEER PUBLISHING A FAMILY TREE
Performative presentation by Bernhard Cella and Roland Fischer-Briand
 
Performative presentation with publications from the collection as well as the presentation of the poster edition for 1 Euro.The Queer Tree of Life maps the landscape of queer LGBTQ publishing between 1880 and 2019 in an international context. The selected examples focus on identity and image constructions of queer lifestyles. Fanzines, self-publishing, academic discourse, research, porn, and artist books are presented as pioneers of a non-heteronormative self-understanding.
Vienna 2019

︎The exhibition "Queer Publishing. A family tree" is part of the section VABF curation
 
---
Friday, October 04, 2019
︎ 8:00 pm, SR 26, Ground Floor

The Possibilities of the Artists' Book
TALK by Max Schumann, Executive Director Printed Matter, Inc.

The talk weaves the history of Printed Matter, Inc. with the history of contemporary artists' books, and also gives consideration to the resurgence of the artists' books and artist publishing in the age of digital information.


Printed Matter is a New York-based non-profit organization that has supported artists' publications for over 40 years. It plays a decisive role in nurturing an international community of artists, designers, and writers through the distribution of books as well as through regular public exhibitions and programming in their space. Another important component of Printed Matter's program is the New York And Los Angeles Art Book Fairs. These fairs have become an essential gathering spot for Printed Matter's broad audience and a place where an international community of artists/publishers can see themselves. 


---
Saturday, October 05, 2019
︎ 1:30 pm, SR 26, Ground Floor

Pompei, Pompeii
Book launch with a performance by the author Michiel Huijben

For Pompei, Pompeii Bianca Pedrina carefully inspects the relationship between form and function in a newly implemented accessibility project in Pompeii. The project consists of iron elements embedded in the gaps of the historic Roman streets, and allow barrier-free access to the excavation site. 

Pompei, Pompeii is published by Mark Pezinger Books
 
---
Saturday, October 05, 2019
︎ 2:00 pm, SR 26, Ground Floor

departure talk: HOW TO INDIE MAGAZINE 
Teilnehmer_innen: Auslöser Magazin (Sebastian Gansrigler, Moderation), Are We There Yet Magazine (Rebecca Balogh, Rebecca Russell), C/O VIENNA MAGAZINE (Antje Mayer-Salvi), Wien Lebt Magazin (Daniel Kalkhofer)
Der Talk präsentiert vier sehr unterschiedliche Positionen der aktuellen Wiener Indie-Magazin Szene und zeigt auf, welche interessanten Entwicklungen und Trends gerade passieren, welche Herausforderungen und Schwierigkeiten dabei entstehen und hinterfragt wie und warum Indiemagazine überhaupt entwickelt werden.
 
---
Saturday, October 05, 2019
︎ 3:00 pm, SR 25, Ground Floor
Curator Regine Ehleiter will lead through the exhibition "Re: Groups", joined by the artist Alwin Lay.



Exhibition view of "Re: Groups" in Camera Austria International, no. 147 (Fall 2019), pp. 53–63. Photo: Katharina Oberegger. © artists, authors, and Camera Austria International.

︎The exhibition "Re:Groups" is part of the section VABF curation
 
---
Saturday, October 05, 2019
︎ 4:00 pm, SR 26, Ground Floor

Dein Kampf (Mack Books 2019) and AmericanSuburbX (Blog)
TALK by Brad Feuerhelm and Clemens Fantur

From its title to its formal arrangement of language, Brad Feuerhelm's Dein Kampf suggests a commentary on our cyclical anxieties about ideology. Anxiety is implicit in his photographs and Berlin is their natural backdrop, being a city in which several ideologies collided in the twentieth century. The city exemplifies the quagmire of possibilities in which the tensions of historical narrative and contemporary political and ideological doubt are played out in visual motifs throughout the landscape.
Fragments of the past and symbols of capitalist modernity underpin the work–banks, insurance companies and people as effigies of citizens appear as a cloaking miasma, the spectre of past, present and no future. The schema of the glitch and the appropriation methods in Feuerhelm's work are subtle enquiries into the contemporary conditions of fear and confusion. Loose associations about changing futures under technology, religion, immigration and the future of the photographic image also loom large. Dein Kampf is Feuerhelm's proposition about how we activate image and ideology in the book form.
mackboooks.co.uk
americansuburbx.com
---
Saturday, October 05, 2019
︎ 5:00 pm, Auditorium

Performance for the Book
by An Onghena and Tom Exelmans (BE)

An Onghena's work with the programmatic title Performance for the Book is an investigation into the material, formal , and contextual requirements and conditions of bookmaking. The artist appropriates a standard large-format paper roll to tell of the potentiality of her material. By subjecting the paper to a variety of different transformation processes, Onghena not only demonstrates its possible aggregate states, she also reveals all of the agents involved in these states. In an interplay between artist, performer, exhibition space, instructions, the give properties of the material, and not least the observers, the paper is folded and becomes a collective act. (Text from the publication Recherche | Research by Kunstraum Lakeside, published by Verlag für moderne Kunst, Wien 2019)
anonghena.com 
 
---
Saturday, October 05, 2019
︎ 6:00 pm, SR 26, Ground Floor

What Discussions do Artist Publishers Want to Have? (working title)
TALK by Marc Fischer, Half Letter Press / Temporary Services, USA

Temporary Services is Brett Bloom and Marc Fischer. We started working together in Chicago in 1998 as a larger group. In 2008, we started Half Letter Press, a publishing imprint and online store. We are currently based in Chicago and Auburn (IN). We produce exhibitions, events, projects, and publications. The distinction between art practice and other creative human endeavors is irrelevant to us.



halfletterpress.com
temporaryservices.org
 
---
Saturday, October 05, 2019
︎ 7:00 pm, SR 26, Ground Floor

Publishing Publishing Manifestos
TALK by Michalis Pichler (in German)

Publishing Manifestos was published in 2019 by MIT Press and features 75 key texts of critical engagement with publishing from protagonists of the field.Michalis Pichler, editor of the book, will present this edition and address: Alienation, Seriosity Dummies, A Short Walk Through a Historical Arc of Tension, and address why the Artist's book is a Problematic Term, Materialzärtlichkeit, Paradigm Shift and Post-digital Turn, and Art Book Fairs as Public Spheres.

Contributors: AND Publishing, Oswald de Andrade, Archive Books, Art-Rite, Rasheed Araeen, Tauba Auerbach, Michael Baers, Bibi Bakare-Yusuf, Ricardo Basbaum, Derek Beaulieu, Bernadette Corporation, Riccardo Boglione, Bombay Underground, Jorge Luis Borges, bpNichol, Kate Briggs, Broken Dimanche Press, Eleanor Vonne Brown, Urvashi Butalia, Ulises Carrión, Mariana Castillo Deball, Paul Chan, Chimurenga, Arpita Das, Anita Di Bianco, Guy Debord, Constant Dullaart, Craig Dworkin, Ntone Edjabe, Zenon Fajfer, Marina Fokidis, General Idea, Annette Gilbert, Girls Like Us, Gloria Glitzer, Marianne Groulez, Alex Hamburger, Karl Holmqvist, Lisa Holzer, Mahmood Jamal, Tom Jennings, Ray Johnson, David Jourdan, Sharon Kivland, Kione Kochi, Kwani?, Bruce LaBruce, Tan Lin, El Lissitzky, Alessandro Ludovico, Sara MacKillop, Steve McCaffery, Jonathan Monk, Simon Morris, Mosireen, León Munoz Santini, Takashi Murakami, Deke Nihilson, Aurélie Noury, Johnny Noxzema, Clive Phillpot, Michalis Pichler, Seth Price, Riot Grrrl, Carlos Soto Román, Allen Ruppersberg, Joachim Schmid, Oliver Sieber, Paul Soulellis, Matthew Stadler, Gertrude Stein, Paul Stephens, Hito Steyerl, Mladen Stilinović, Katja Stuke, Temporary Services, Nick Thurston, TIQQUN, Elisabeth Tonnard, V. Vale, Eric Watier, Erik van der Weijde, Lawrence Weiner, Eva Weinmayr, Jan Wenzel, Stephen Willats, Gil J Wolman, zubaan
Copublished with Miss Read: The Berlin Art Book Fair
buypichler.com
mitpress.mit.edu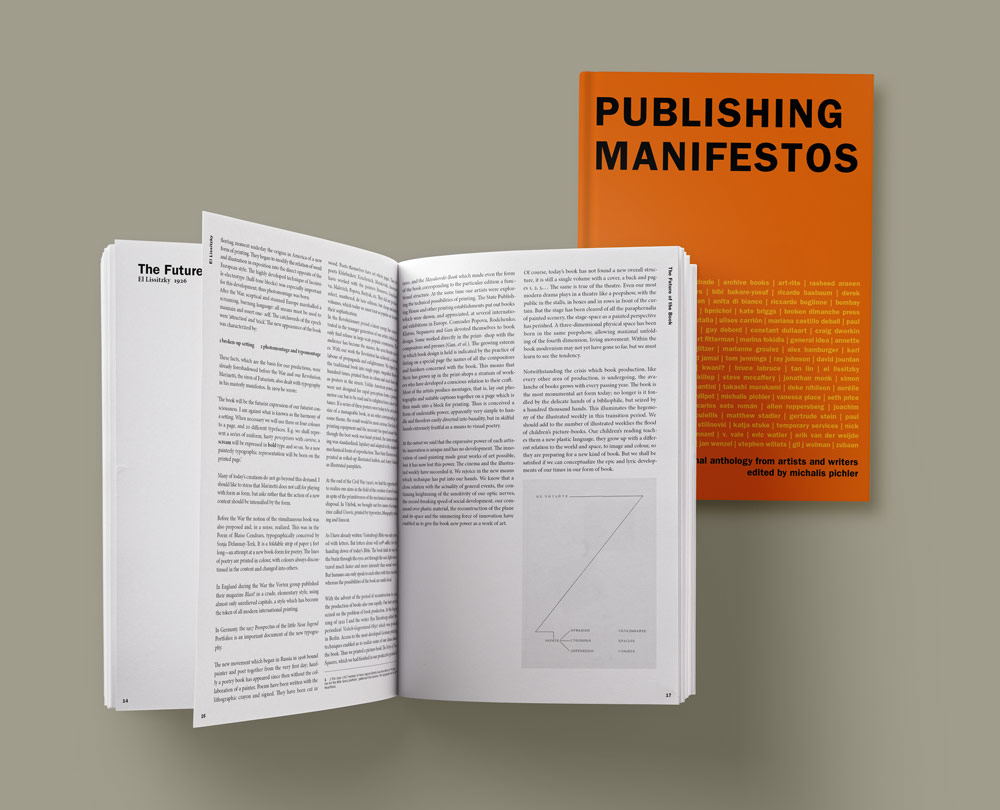 © Publishing Manifestos. An international anthology from artists and writers
edited by Michalis Pichle, Co-published by Miss Read, Berlin and The MIT Press, Cambridge (MA) 2019
 
---
Sunday, October 06, 2019
︎ 1:00 pm, SR 26, Ground Floor


ARTIST TALK: Reiner Riedler in conversation with Vreni Hockenjos

Steaming hot off the press comes Reiner Riedler's most recent photobook SWEAT. It contains a series of extraordinary portraits of people using their perspiration. In conversation with media scholar Vreni Hockenjos, who wrote the preface to the book, Riedler presents his unique photographic method of capturing the "true essence" of his fellow human beings. The "hidrographic" images not only allude to ancient iconic traditions such as Veronica's Veil or the Turin Shroud but also raise questions on the nature of the photographic image more generally. For the brave, there will be an opportunity to have their picture taken!
Riedler is also one of the founders of Reflektor, a Vienna-based platform and network for the promotion of self-published photobooks. As such, the talk will also address the advantages (and pitfalls) of self-publishing for photographers and discuss the concept behind the Reflektor community. 

reflektor.org
 
Sunday, October 06, 2019
︎ 2:00 pm, SR 26, Ground Floor

ARTIST TALK: Michael Wegerer in conversation with Christine Humpl-Mazegger
The new publication "Quint Print: Glass" from the Studio Quint Screen Print will be introduced for the public in Vienna. The very first Artist Talk about the project will give the audience an insight into new processes and applications for printed glass. Michael Wegerer talks to Christine Humpl-Mazegger, author of the essay "Beyond screen printing", about the project. Interested visitors can gain more information about the glass prototypes and insights into the artistic and economic research project.
 
---
Sunday, October 06, 2019
︎ 3:00 pm, SR 26, Ground Floor

ARTIST TALK: Simon Brugner in conversation with Michael Kollmann

The photo book expert Michael Kollmann in conversation with Simon Brugner on reading between the images, concepts of reality, the book as "Welterklärungsmodell", and his recently published, internationally acclaimed book The Arsenic Eaters (The Eriskay Connection).
In The Arsenic Eaters, Simon Brugner investigates the historical myth that the consumption of arsenic, one of the most potent mineral poisons, is beneficial to one's health. How is it possible to present a legend, when there is little documentation about it, and its very existence is even in doubt? Simon Brugner combines contemporary and archival images in a visual narrative, while providing extensive background research on everything from Renaissance medical writings to the mineralogical aspects of arsenic itself. The work comes together in a kind of intellectual investigation and re-enactment, trying to piece together the links between the lives, surroundings, and behaviors that might have led to this peculiar practice. Images of a sinewy hand or the muscles of a tough calf are no longer innocent, but become suspect. Within this context, even historical pictures no longer appear so neutral or folkloric, but rather seem to reveal the forbidden traces of arsenic.simonbrugner.com 
eriskayconnection.com 
 
---
Sunday, October 06, 2019
︎ 4:00 pm, SR 26, Ground Floor

TALK: Annette Gilbert: Library of Artistic Print on Demand

Print-on-demand is a new production method based on digital print that has revolutionized the book world. Allowing for very small print runs down to one single copy the availability of book titles no longer requires a physical stock—in contrast to traditional print runs. This has fundamental effects on the production of printed matter and its contents. Our collection of artistic print-on-demand publications will grow through curatorial acquisition and artist's/author's contributions. It will be preserved in future years in a leading German library. It will be an important resource for the study of print-based experimental publishing, art and literature in the post-digital era.http://apod.li/


︎The exhibition "Library of Artistic Print on Demand" is part of the section VABF curation
 
---
Sunday, October 06, 2019
︎ 5:00 pm, , SR 26, Ground Floor

Performance Talk: Allumfassende Zufriedenheit. Über das Apolitische Milan Mijalkovic von Makedonien 

The Volume "All-embracing Satisfaction: On the Apolitical" is the further development of a performative speech by artist and architect Milan Mijalkovic. 25 minutes of spoken word into a 300 page book becomes fragments, word images and poetry; the reception itself becomes a performance. 
Within the same speech given on May 9, 2019 in a small tavern of Vienna, Milan Mijalkovic of Macedonia deals with the origins of democracy, their interactions with the history of mankind and natural events, as well as their rituals in the public sphere and their appearance in today's daily life. Hence, the political speech turns into an artform, an aesthetical material. 
 
Publisher: Album Verlag